Affordable Stump Grinding Service in Melbourne
Trees that grow in unusual spaces can pave their ways to the foundation of nearby properties, in turn damaging and weakening the structure. The removal or relocation of these trees is significant. The process involves a lot of care and attention to avoid causing harm to the surroundings.
Stump grinding is also an important part of the tree removal service. Stumps are usually tripping hazards and make the premises look untidy. The space after the clean-up can be used for many other purposes.
If you have unpleasant tree stumps in your area that keep coming in your way, Tree Kings will help you remove it effectively and without much hassle. Our heavy-duty stump grinding machines can remove every type of stump from your area faster than ever.
Our expert team is fully equipped with the latest technology and knowledge to work on such projects. We perform stump grinding with utter care and without harming the productivity of the soil bed and visual appeal of the ground.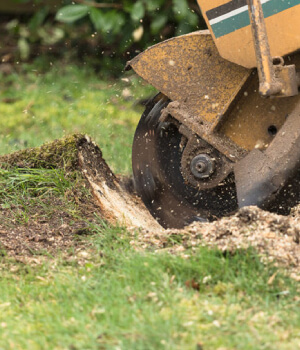 Stump grinding is a more profound process that cuts down underlying roots of a stump of a tree. In this process, the wood is cut in small pieces and chipped for useful purposes. This is done to free out space for any structure installation or new plantation. A tree surgeon works to remove the root after the tree has been removed to prevent the growth of pests and ants that can cause harm to the soil and the people living nearby.
Although stump grinding is a necessary and extensive process, Tree Kings in Melbourne offers it at an affordable price stump grinding service.
Why is Stump Grinding so crucial?
Even after the removal of the tree, stumps remain connected to the root system. Traditionally, to remove a stump, it is important to cut a bigger area than the stump to completely extract the roots from the ground, which usually requires a crane. This is an expensive process and creates a lot of mess around. It even causes a lot of damage to the garden bed. Choose the professionals at Tree Kings for affordable and hassle-free stump removal services.
The removal of stump is beneficial for many reasons like:
It gets rid of harmful pests and insects, which can otherwise ruin surroundings
It frees up more space for buildings and new plantation
Stump grinding rejuvenates the ground and increases productivity and growth for other plants
The wood chipped is usually used for other purposes
A diseased stump is unhealthy for its surrounding plants and trees
Opting for stump grinding means choosing affordability with less damage to the garden area.
Using State-of-the-Art Stump Grinders for Tree Stump Removal
Stump grinders used by the team Tree Kings are made up of premium- quality material. Their heavy-duty build allows easy and quick removal of large and old stumps and roots.
The stump grinder our professionals use has a large rotating disc that grinds and chips the stump into small pieces. Rest assured we do the task with diligence and care. We are available 24/7 for local stump grinding service in Melbourne.
Using State-of-the-Art Stump Grinders for Tree Stump Removal
Certified and insured to work in the local neighbourhood of Melbourne including the suburbs
Honest and reliable
Guaranteed workmanship
Excellent service and quality delivery of work
24/7 service to help you deal with emergency situations
High-quality tools and equipment
Affordable prices
FAQs